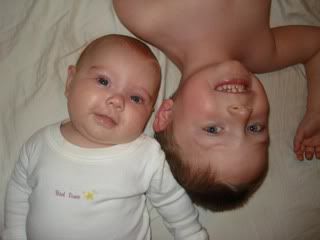 Ok, well since I don't get to see all of my friends and family as much as I would like, I decided to keep you all informed about us via blogging.
Life is finally settling into a routine around here (well kinda). Sophie turned three months old on Friday and was 12 pounds 12 ounces!!! She is a porker!!! She loves her big brother! He can make her smile and laugh so quickly. I took a few pics this morning, and this is my favorite. I am blessed with two blue eyed cuties. I can't wait to watch them grow old together!
We've been teaching Sullivan about unconditional love. He likes to tell us "I don't wub you" whenever we tell him something he isn't happy with. So, we are trying to teach him that we love him all of the time. He sure is testing us on that. In the past two days, he has taken apart Sophie's Christmas tree that I got at one of her showers, opening all of the little presents on it, painted my bathroom (cabinets, sink, walls, etc.) with blue kilz paint that I was painting his bunkbeds with, painted the kitchen table and buffet with fingerpaints, and knocked the wet bunkbeds over in the garage. I guess he is really testing out that unconditional love theory.
When I put him in time out, he asked me "Can I get a book since I am gonna be here a while?" Oh that boy!!!!
Well, I will try to update with pictures soon!